---
This website is being redesigned. 
---
TV News
---

WWI veteran's family claims Govt took their land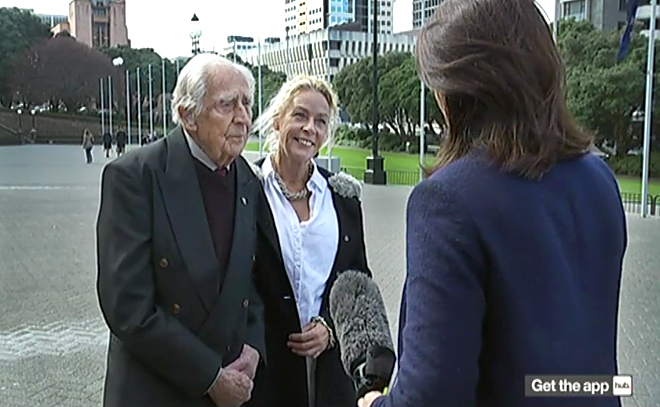 Please click on the Image above for the LINK

A 98-year-old World War II veteran took an historical grievance to Parliament on Tuesday over the loss of his family's land.
Noel Peterson's family was granted land to farm near Te Kuiti by the Government as a returned serviceman in 1920. But he claims it was wrongfully taken.
"They never got the help that was promised to them by the Government of the day for the services they provided in World War I," he says.
His father, Magnus, was granted land to farm under the Discharged Servicemen Act when he returned from Gallipoli.
The Act supported returned soldiers with land packages, including financial assistance. But Mr Peterson says they never got that financial help and in 1927 they were forced to leave.
"They only left it because they couldn't survive or couldn't live off it," he says.
But the Government said the land was abandoned.
Noel Peterson's daughter, Tanya Peterson, who was also at Parliament, said she wants the soldiers to have their land back.
"All soldiers to have their land back - it belongs to the soldiers."
Ms Peterson has been researching this for nine years and says there are thousands more families like theirs who she hopes will come forward.
She has exhausted all legal channels and Parliament is her last hope.
New Zealand First MP Fletcher Tabuteau met the group and presented the petition to Parliament on Tuesday.
"That's why it's such a relief for them in particular to be able to sit down in front of someone and say, 'We've been done wrong.'"
The Peterson land is now privately owned and Mr Tabuteau says it would be hard to get it back, but there's the possibility of financial compensation and the acknowledgement that illegal action was undertaken.
It will be up to the Primary Production Select Committee to decide.
Ms Peterson just hopes their claim will be resolved in her father's lifetime.
Newshub.
---